Cheer Cheer Spring Is Here
I can hear the birds chirping outside my home office as I type this. If they're happy it means warmer weather MUST be near and if you're reading this, congrats! You've officially survived Winter and made it to Spring.
I don't know about you, but I'm ready to send this cabin fever into hibernation and enjoy the smells of spring, cooking out, and getting my house in order! Which is why I want to share the following tips to get your home and landscaping in order and hey, there may even be a recipe or two at the end for ya.

1. Spring Cleaning
I get it, two of the most dreaded words in our language, but if you have young kids like us, your house has become a giant toy room and it's time to put it all away, get organized and rinse the winter away.
I shared an article on my Facebook page recently that discussed the HOW to clean part of Spring Cleaning. Yes, you read that correctly, there's a right way to clean. Don't just grab a roll of paper towels and the stock pile of cleaning solutions you've acquired, but rather, take the time to read the instructions. One of the biggest tips that I took away from this was that sometimes less is more. Especially when it comes to concentrated cleaning solutions. Trust the bottle and if it says one cap-full to X parts of water, use one cap-full. The manufacturer has put a lot of time, money and research into the product to make it just right for use. Overdoing it will cost you more money in the long run.
You can read the full article here: You're Cleaning Your House The Wrong Way, Here's Why - via Realtor.com.

2. Landscaping
The snow is nearly gone and the temps are climbing. Soon enough we'll be getting our hands dirty cleaning up yard debris, making sure our gutters are clear for those April showers coming our way, planting new flowers (maybe even a vegetable garden), and getting a fresh blanket of mulch on those flower beds. After all, you don't get a second chance at a first impression, especially when listing your house.
Here's 5 Lawn and Landscaping Tips For Spring courtesy of AngiesList.com that will help you be the envy of your neighborhood.
3. Organizing
We could spend a blog series focused on organizing the house, but for this space I want to focus on one small area ... the garage. If you're like us, it has become the catch-all of Winter. Boots, snow blower, odds and ends. You name it, it's probably in the garage. I know my husband is itching to see his workbench again.
We moved into our home at the end of September and are still struggling to clear the garage of junk left behind by the previous owner. There was so much stuff that it took 6 weeks just to make enough space to get both cars in the garage. Post It notes littered the house and garage with "Not Going." Oh it's going alright, out with the trash.
Thanks for sticking with me through my mini-rant.
Now, back to the task at hand ... the garage. Our main goal this Spring is to get outside and finish clearing it out and organizing so that we can stop tripping over ourselves as we load the kids into the cars.
It's going to take a little time, but we'll get there.
HGTV.com has provided this handy To-Do List: Organizing the Garage, which has been helpful in our game planning.
Bonus!
It's hard work making sure your husband has the mower deck set to the right height, the mulch nice and evenly laid in the flower beds and pulling everything out of the garage just to put it back. Relax with one of the 33 Best Spring Cocktails To Enjoy With the News Season!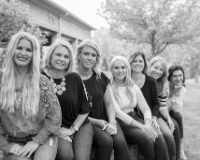 Author:
Mucci Team
Phone:
330-933-0339
Dated:
March 21st 2017
Views:
125
About Mucci: ...